Wellington, FL – March 28, 2014 – The 2014 FTI Consulting Winter Equestrian Festival (FTI WEF) hosted classics for the young jumpers on Friday during its twelfth and final week of competition at the Palm Beach International Equestrian Center in Wellington, FL. In the $20,000 Adequan® 8-Year-Old Young Jumper Classic, Nick Dello Joio (USA) and Boomerang were the winners. Sloane Coles (USA) and WEC l'Ami Noir topped the the $20,000 Adequan® 7-Year-Old Young Jumper Classic, and Darragh Kenny (IRL) and Dakota VDL won the $15,000 Adequan® 6-Year-Old Young Jumper Classic.
FTI WEF week twelve, sponsored by FTI Consulting, continues through March 30, 2014. Saturday will feature the $100,000 Suncast® 1.50m Championship Jumper Series Final and $500,000 FTI Consulting Finale Grand Prix CSI 5* along with round one of the $50,000 USHJA International Hunter Derby, which concludes on the derby field on Sunday at 1 p.m.
Live streaming is available on Saturday, March 29, at approximately 6:30 p.m. EST for the $500,000 FTI Consulting Finale Grand Prix CSI 5*. Live streaming will begin with the $100,000 Suncast 1.50m Championship Jumper Series Final Jump-off. Watch here:
http://www.chronofhorse.com/article/2014-fti-finale-grand-prix-live
Anthony D'Ambrosio (USA) set the tracks for Friday's young jumper classes in the International Arena at PBIEC. All of the classes were held with the option to either jump-off immediately following their round or wait until after the first round of competition. In the $20,000 Adequan® Eight-Year-Old Young Jumper Classic, 61 entries showed with eight to jump-off, and five double clear rounds. Nick Skelton (GBR) led the way with Aristio for most of the class, jumping off early in 38.60 seconds, but eventually moved into third place. Adam Prudent (FRA) jumped off after his round with Henri Prudent's Si Bella and briefly took the lead in 38.09 seconds, but was pushed into second. Nick Dello Joio (USA) chose to return for his jump-off round at the end, and took over for the win with Emilie Martinsen's Boomerang in 37.35 seconds.
Boomerang, a KWPN gelding by Orlando x Lux, is a horse that Martinsen rode last summer and then asked Dello Joio to ride with the idea to bring him along and sell.
"I am privileged to ride him," Dello Joio stated after his win. "He is full of character. He is a small horse, but he has more scope and more range than any horse I think I have ever ridden. He is a bit cheeky and has a lot of personality. I think all of that combined is what makes him a super horse."
"I have been riding him at this circuit for five or six weeks, and I think it is time for him to move up," the rider noted. "This is a good division for him, but he is better over a bigger fence, so I think it's time to see what he's got. We have schooled him at home and other places, and when the horse jumps bigger, he is way more focused. When he jumps smaller, it is just too easy for him. It's like (Michael) Jordan playing street ball or something. It's not fair, so I'm excited to take him to the next level."
Commenting on the ride and his decision to wait to jump-off until the end, Dello Joio explained, "With horses like him, you always want to keep them a little bit under your thumb. You want to keep them with you and together. He's not a horse that you want to get off his back and let him do what he wants. You have to kind of work together, and that is when he is at his best, and his most focused."
"In the first round, maybe I left him a little bit too fresh," Dello Joio mused. "He is so gamey; he is so on it, so he finished the first round, and I thought I would just bring him out and let him chill. I wanted to re-school him and get his focus again, and then go back in and have a round like that, and it paid off."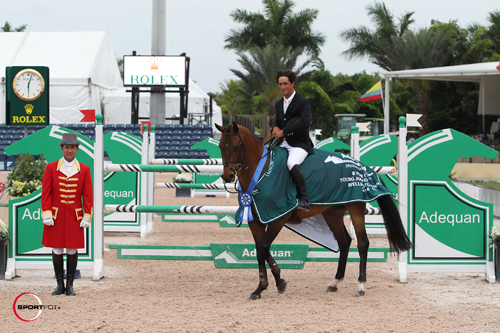 Nick Dello Joio and Boomerang in their winning presentation
with ringmaster Gustavo Murcia
For his round in the jump-off, Dello Joio asked the advice of his father, Norman, heading in. "I asked dad what he thought about it, if we wanted to push him or how important this class was for him," the rider explained. "He just said, 'Be smart and be smooth.' The horse is so quick across the ground; his stride eats it up for a little horse. I had to almost chip and do the nine (strides) down the last line. Everyone else was galloping and I could have done eight if I really needed to, but I saw the clock and I was like, 'Alright, wait, easy.' I just made neat turns and used his stride to my advantage. I have never really put any gas on the fire, so it worked out."
Dello Joio plans to step Boomerang up a little bit in the months to come and knows that the horse has a great future. "There are some shows here in April, so maybe we will pull him out one week and jump one of the grand prix classes here on him quietly, without a ton of people, and just see what he does and see how he reacts to it," he said. "Then the plan is for him to go to Old Salem and Spruce Meadows, which I think will be fantastic mileage for him. Old Salem is an amazing venue, and Calgary, there is no better in the world for experience for horses. If he keeps going like that, he is a super horse, so I think he will get sold."
Final Results: $20,000 Adequan® Eight-Year-Old Young Jumper Classic
1. BOOMERANG (2006 KWPN g. Orlando x Luz Z)
NICHOLAS DELLO JOIO / EMILIE MARTINSEN: 0/0/37.355
2. SI BELLA 2006 SF m. Diamant de Semilly x Digne Espoir
ADAM PRUDENT / HENRI PRUDENT: 0/0/38.090
3. ARISTIO 2006 AES s. Arko III x Voltaire
NICK SKELTON JOHN HALES: 0/0/38.606
4. COOL DE REVE 2006 SF g. Kashmir van Schuttershof x Ulior des Isles
PETER LUTZ FURTHER LANE FARM LLC & DAVENPORT INC: 0/0/39.285
5. STREET HASSLE 2006 SF s. Quick Star x Laudanum xx
PARIS SELLON / PARIS SELLON: 0/0/40.303
6. BALESTHA 2006 KWPN m. Indorado x Farmer
KIRSTEN COE / ILAN FERDER: 0/4/40.847
7. BRIGHTLY 2006 KWPN m. Tolan R x Niagara
MCLAIN WARD / SAGAMORE FARMS: 0/8/37.739
8. GRAFTON 2006 SF s. Calvaro x Vondeen
DARRIN DLIN / ARIEL AND SUSAN GRANGE: 0/8/40.116
9. BENTE 2006 KWPN m. Numero Uno x Boreas
OOSJE BROUWER / STAL THIJSSEN BV: 1/77.665
10. ACOBELLA 2006 WES m. Acodetto I x Libero H
COURTNEY BOYD / CYNTHIA NIELSEN: 2/78.030
11. AMI DU HOUSSOIT 2006 SBS g. Rexar du Houssoit x Kannan
ALEXA LOWE-WISEMAN / WINDSOR FARM SALES: 4/68.829
12. SOORY DE L'HALLALI 2006 SF m. For Pleasure x Pegase Gerbaux
EIKEN SATO / STEPHEX STABLES: 4/71.028
Sloane Coles and WEC l'Ami Noir Win $20,000 Adequan® Seven-Year-Old Young Jumper Classic
The $20,000 Adequan® Seven-Year-Old Young Jumper Classic was featured at the FTI WEF on Friday afternoon with 20 out of 72 entries making it through to the jump-off and 13 double clear rounds over Anthony D'Ambrosio's short course. Early on, Sloane Coles (USA) and The Windwood Group's WEC l'Ami Noir set a very fast pace in 30.84 seconds that would hold on to the lead through the end. Ronan McGuigan (IRL) and Blythe Masters' Chapeau finished second in 30.96 seconds. Tim Gredley (GBR) and Unex Billy Dream placed third in 31.65 seconds, and Ramiro Quintana (ARG) and St. Bride's Farm's Tua Efele finished fourth in 32.22 seconds.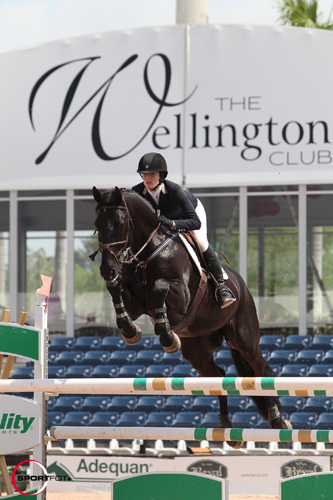 Sloane Coles and WEC l'Ami Noir (Cormint x Corrado I)

WEC l'Ami Noir is a Holsteiner gelding by Cormint x Corrado I that owners at The Windwood Group purchased as a five-year-old. Coles started riding l'Ami two months ago and has been showing the gelding in the seven-year-old classes throughout the last half of the FTI WEF circuit, including a win during week ten leading up to the final.
"When the owners bought him, they kind of knew that he was going to be a grand prix horse, and I think he has proven that already as a seven-year-old," Coles noted. "He is just very scopey and very careful. He is light on his feet and quick off the ground. He wants to be a winner; he really wants to be fast. The rideability is there, it is getting better, but he is just a super horse and I am looking forward to having him in the future."
Speaking of l'Ami's personality, Coles described, "When we first got him, he was a little bit funny. He didn't want to be loved on and he was a little weird, but now we are spoiling him and he is really developing a personality. He is very put together, almost proud of himself. He is big and beautiful and he knows he is a good horse, which is good."
"I didn't start showing him here until maybe week six, but he has done the seven-year-old classes the whole circuit," she detailed. "Today was bigger than it has been down here, and I feel like he just stepped up. I feel like he definitely could have jumped bigger today if he had to. His stride is huge. I left out strides in a couple of places in the jump-off, and I think that is how I won it."
Coles heads back to her base in Middleburg, VA, after this week and shows in Virginia and Kentucky throughout the summer with the goal of the Seven-Year-Old Young Jumper Championships at the Hampton Classic in August.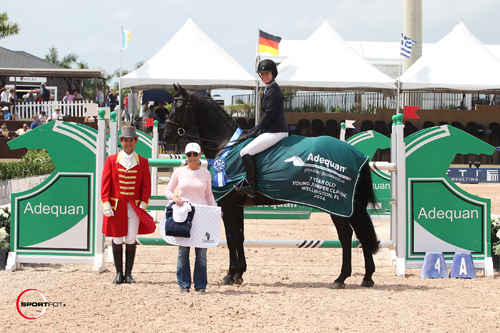 Sloane Coles and WEC l'Ami Noir in their winning presentation with ringmaster Gustavo Murica and Laura Fetterman of Champion Equine Insurance
Final Results: $20,000 Adequan® Seven-Year-Old Young Jumper Classic
1. WEC L'AMI NOIR 2007 HOL g. Cormint x Corrado I
SLOANE COLES / THE WINDWOOD GROUP: 0/0/30.840
2. CHAPEAU 2007 KWPN g. Indoctro x Ramiro
RONAN MC GUIGAN / BLYTHE MASTERS: 0/0/30.961
3. UNEX BILLY DREAM 2007 AES m. Billy Congo x
TIM GREDLEY / UNEX COMPETITION YARD: 0/0/31.657
4. TUA EFELE 2007 SF m. Toulon x Surcouf de Revel
RAMIRO QUINTANA /  ST. BRIDE'S FARM: 0/0/32.226
5. COBERLINA 2007 KWPN m. Carolus II x Corland
PETER LUTZ / ORCHARD FARM: 0/0/32.389
6. ADELE 2007 HOL m. Cassini I x Capitol I
MCLAIN WARD / MCLAIN WARD & TEQUESTRIAN FARMS LLC: 0/0/32.417
7. G&C KAY LS SLS m.
RODRIGO PESSOA / GUSTAVO MIRABAL: 0/0/32.539
8. CASSTESS HBC 2007 HOL s. Cassiano x Con Air
JULIE WELLES / KADLEY HOLDINGS LLC: 0/0/32.640
9. CALAIS 2007 KWPN g. Ultimo x Tangelo vd Zuuthoeve
JEFFERY WELLES / SHARON GUNTHEL & TRITON VENTURES: 0/0/32.784
10. CICOMEIN VDL 2007 KWPN m. Chacco Blue x Jus de Pomme
TINA DILANDRI / HIGHPOINT FARM LLC: 0/0/33.727
11. TARZAN D'IVRAIE 2007 SF g. Kannan x Fol Avril
NICOLAS PAILLOT / NICOLAS PAILLOT: 0/0/33.734
12. MERCURY 2007 ZANG g. Catoki x Dark Damour
LILLIE KEENAN / CHANSONETTE FARM LLC: 0/0/34.589

Darragh Kenny and Dakota VDL Top $15,000 Adequan® Six-Year-Old Young Jumper Classic
The $15,000 Adequan® Six-Year-Old Young Jumper Classic was the first class in the International Arena at PBIEC on Friday with a win for Darragh Kenny (IRL) and Hyperion Stud LLC's Dakota VDL. The six-year-old Holsteiner stallion (Casall x Contender) was purchased from VDL Stud two years ago for the highest bid of $210,000 at the 2012 WEF Sport Horse Auction in Wellington. Kenny started riding the horse this year in the middle of January and showed throughout the winter at the 1.30m level.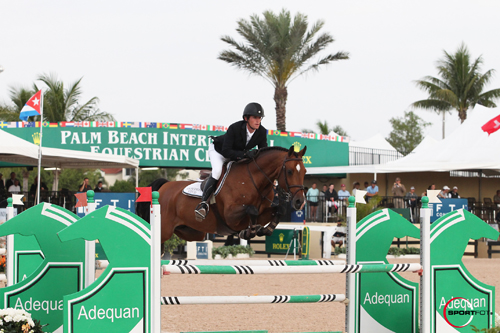 Darragh Kenny and Dakota VDL (Casall x Contender)

In Friday's six-year-old classic, the pair topped a class of 63 entries where 26 advanced to the jump-off. They had the fastest time of 34.60 seconds out of 11 double clear rounds. Sloane Coles and The Windwood Group's WEC Damokles finished second in 35.25 seconds. Alex Granato (USA) guided Page Tredennick's Calchen W to third place honors in 35.28 seconds, and Darrin Dlin (CAN) and Susan Grange's Tienna placed fourth in 35.70 seconds.
"He is really a special horse," Kenny praised. "He was already jumping the 1.30m easy. He basically did not do any of the six-year-old classes all winter because we wanted to jump him a little bit bigger. He has huge scope, and he is very careful. He is very, very competitive and today he was super."
"He is super easy," the rider added. "There is nothing difficult about him. He doesn't spook, he has loads of jump, he is very careful and easy to ride. It is an easy thing to go in and try to win a class like this on him. He makes my life very easy, so that's nice. The idea is to just keep building him up and see where he goes. I think he has all the ability to be a top horse."
Kenny commented on the course, stating, "I thought it was very good. It was a little technical and a little spooky, which was good. The good horses ended up at the top and that was the right way to do it."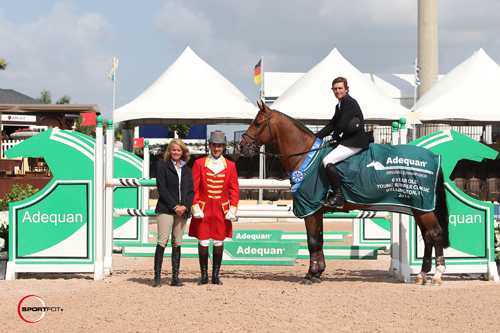 Darragh Kenny and Dakota VDL in their winning presentation with ringmaster Gustavo Murcia and Kathy Serio for Adequan
Kenny and Dakota VDL had an impressive round through D'Ambrosio's short course to conclude their FTI WEF circuit with a win, and Kenny looks forward to furthering the horse's potential when they show together again in Canada this summer.
"I think actually on Monday he is going to leave to go back to Hyperion Stud in Virginia to start breeding," Kenny noted. "He will do a lot of breeding for April and some of May and then he will come to Spruce Meadows for me to jump. He will keep breeding for the future and then we will keep showing him and see where it goes."
Final Results: $15,000 Adequan® Six-Year-Old Young Jumper Classic
1. DAKOTA VDL 2008 KWPN s. Casall x Contender
DARRAGH KENNY / HYPERION STUD LLC: 0/0/34.607
2. WEC DAMOKLES 2008 KWPN s. Ukato x Goodwill
SLOANE COLES / THE WINDWOOD GROUP: 0/0/35.251
3. CALCHEN W 2008 MECK g. Chacco Blue x Continue
ALEX GRANATO / PAGE TREDENNICK: 0/0/35.281
4. TIENNA 2008 CSH m. For Pleasure x Polydox. Bred in Canada by Susan Grange
DARRIN DLIN / SUSAN GRANGE: 0/0/35.708
5. DIVA
CHRISTIAN COYLE / DECLAN ORPEN: 0/0/36.392
6. IMERALD VAN'T VOORHOF 2008 BWP m. Emerald van het Ruitershof x Bacardi-Orange de Muze
CODY AUER / SARAH RYAN: 0/0/36.684
7. LAVITTO Z 2008 ZANG g. Levisto Z x
MAGGIE MCALARY / MAGGIE MCALARY: 0/0/36.942
8. ABBEY ROAD 2008 HOL m. Quinar x Landwind. Bred in USA by Carol Rosenstein & Silver Raven Farm.
NICOLE SHAHINIAN-SIMPSON / SILVER RAVEN FARMS: 0/0/37.110
9. CUMANA 2008 g. Black Diamond x Pilot
JUAN ORTIZ JUAN ORTIZ: 0/0/37.206
10. DANNEMORA 2008 KWPN s. Quasimodo Z x
HAYLEY BARNHILL / BARNHILL LLC: 0/0/38.179
11. CONTINA R 2008 SWB m. Contendro I x Silvio I
MARKUS BEERBAUM / MICHAELS & BEERBAUM GMBH: 0/0/41.908
12. HOLLIS 2008 KWPN g. Hamlet x Landeur
MATTHEW METELL / WOLVER HOLLOW: 0/4/33.871
Photos © Sportfot.com